Reading Time:
9
minutes
Is more content better? Not always. 
While a content marketing strategy that involves a regular, frequent publishing schedule should be encouraged, the glut of content that your school can accumulate after doing this for a number of years can create a few problems.
You might find that some of your newer content is very similar to your older content as you run out of new ideas to explore. 
Or that you have several articles of a few hundred words or so covering various facets of a topic, but very little of the authoritative, in-depth, long-form pieces that Google prioritizes in its search algorithms. 
Not only does this make your content bank bloated and unwieldly, but it can have a negative impact on the health of your SEO. You might find that for all of your efforts to create fresh original content over the years, your school isn't ranking highly in many of your targeted searches.
The answer? Content consolidation, a process content marketing experts use to clean up, amalgamate, and reorganize their content into a smaller collection of posts that rank in search engines.
Is this tactic right for your school? Read on to find out.
What is Content Consolidation? A Primer for Schools
To understand what content consolidation is, you first have to understand why it's beneficial.
Schools that create content over a long period of time will eventually get to the point where they have a deep bank of articles and posts. On the surface, this might seem like a good thing for your school's SEO efforts, but many digital marketers have identified some downsides.
For one thing, as time goes on, it's inevitable that your school will run out of topics for posts that it hasn't already previously covered. 
The principle selling points of your school and its courses, as well as the most pressing motivations and concerns of your target personas, will all have been written about extensively. This will usually result in your content creators circling back to these topics and creating new posts that attempt to give them a fresher spin. 
While there's nothing inherently wrong with this tactic, it results in you having a lot of posts that cover the same topic. 
Because Google generally aims to show no more than two pages from the same domain in the top results of searches, having a lot of posts targeting the same subject can dilute your ranking signals. Essentially, your pages compete with each other for position, and you end up with a lot of pages with a small amount of authority but few that rank highly. 
Example: The results for the search why study English brings up a variety of posts from a range of different sources, including universities, language schools, and online learning providers.
Other issues can arise, too. For instance, you might have authored a blog about a topic that is a bit outdated, or doesn't offer a lot of depth. 
Depending on how Google distributes your authority, this could end up becoming your highest ranked post in a key search, despite it not being the page you'd prefer prospects to land on.
Content consolidation offers a solution to this problem. Essentially, your school can take the content from several of its existing posts or articles and combine them into one authoritative, long-form piece on a specific subject. 
You can then use redirects to divert traffic from your old posts to the new piece. In doing so, the page authority of each of these older pieces will transfer to the new post, giving you one page that ranks highly in your targeted searches. 
Choosing Content from Your School's Website to Consolidate
So, how do you find content that's ripe for consolidation? For this process, Google Search Console is your best friend. The tool provides a range of insights into the performance of your pages in key searches that can help you to find consolidation opportunities.
First, you will want to look at queries which attract a lot of impressions, but not many clicks. In the snapshot below, with can see a number of search queries which have a lot of visibility for a K-12 institution, but attract very little traffic: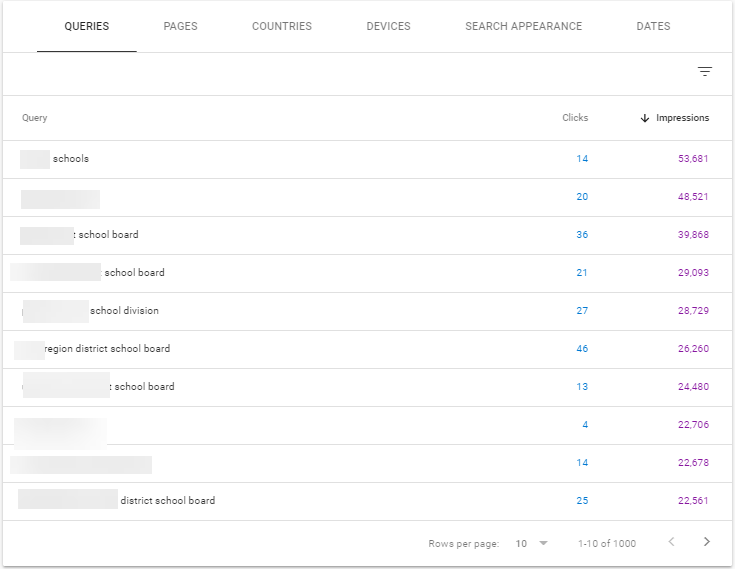 From there, delve into each of these queries to find posts that might be competing against each other in key target searches.
Example: Search console results for some blog posts. You can see here that a number of posts are attracting impressions for this particular query. While two posts have stronger authority, there are also a number of smaller posts competing for the same search. These pages could be candidates for content consolidation.
From there, you can assess the suitability of the posts for consolidation. If you find that you have a series of pieces that could be potentially knitted together as one long-form post, you're onto a winner. For example, see the below illustration of a series of posts related to project management written by a business school:
The blogs could be repurposed for a single, high value article on the topic, The Business School Student's Guide to Project Management.
Other signs posts could be good candidates for this process include:
– Slim content: Posts which are only a few hundred words long are unlikely to attract too much traction in many searches as Google perceives them as lacking depth. However, they could form the basis of a long-form consolidated piece.
– Duplicate content: While Google doesn't penalize duplicate content, it can cause dilution in search rankings across different pages. It also impacts your crawl budget, which is the number of pages on your site a search engine decides to crawl over the course of a day.  
– Dated content: You might have content related to topical subjects, industry trends, or information about studying at your school which is out of date and could do with a refresh. Consolidating it alongside fresher posts could be a good option.
– Low value content: Any content which attracts a lot of visibility but few clicks, or even content which attracts a lot of clicks but it isn't driving inquiries or applications, could be better off consolidated into a more relevant post. 
At this juncture, it's important to stress that not all of the content that fits into these categories will work well for content consolidation. You might find that the pieces themselves don't combine well into a long-form post, or that there is some value in leaving them as standalone posts on the site. In that case, consider other tactics that can drive SEO for schools, such as historical optimization, to boost their rankings and conversion potential. 
Consolidating Your School's Content
The key to successfully consolidating your school's content is to combine content which is similar or targets similar keywords. Content which addresses the same topic, or areas of the same topic, can be consolidated into single pieces.
Any of the existing content you identify can be worked into your new, longer post. However, it's important to make sure that this post isn't just stitched together. It should flow naturally and have a structure to help prospects and search engines find the information they are looking for. Use H1s, H2s, H3s, and even H4s to organize your content in a scannable, digestible format.
Example: This in-depth article from the University of Toronto Faculty of Law uses H2s and H3s to give it a scannable structure. 
You may find that you need to create additional content for the piece to tie everything together and ensure you have a complete, comprehensive resource about the topic you are tackling.
Conversely, you may find that some of the content you have earmarked for this process provides very little value. In this situation, simply remove the old post and redirect to the new resource. This will stop it from siphoning impressions in searches for high value keywords.
How Redirecting Your Old URLs Helps Your School's SEO
Once you've developed a great piece of valuable content, the next step is to redirect clicks and links to your existing URLs to the new page. You can use 301 redirects for this purpose.
Your school should think carefully about what URL this resource should have. If one of the pages you are consolidating has a certain amount of authority and ranks well, it may be best to house the post under that URL. In some cases, however, you may want to create a new URL. If you are going this route, try to make it simple, and ensure it encompasses what the entire piece is about.
Example: Often, the simplest, most effective URLs will be derived from the title you choose for your post, like this one from Glion. 
This part of the process can be quite technical, and you would be wise to enlist the assistance of someone highly proficient in SEO. 
If done correctly, the authority from all of the pages you are redirecting to your new post will transfer to it. You will also signal to Google and other search engines that this content has been updated, resulting in a further boost to visibility.
Is Content Consolidation the Right Tactic for Your School?
Content consolidation has been shown to improve rankings and traffic for companies across various industries. In fact, Google themselves actually use this tactic, a sure sign of its effectiveness.
A couple of years ago, the search giant overhauled its Google Retail presence, consolidating content from six different websites into one single site. This resulted in a 64% increase in organic traffic, a 40% increase in CTA clicks, and a 20% spike in new users.
Source: Think With Google
The tactic also has some other fringe benefits. It has been shown to be beneficial for link-building efforts, as other sites are given a single comprehensive resource to link to. The new pieces you created will also have high share potential across social media, email, and other channels.
What's more, content consolidation can be a way to create fresh, valuable content relatively quickly. Since much of the content for your new posts will already exist, your school will spend less time creating it.
Having said that, this tactic is not for everyone. If your school hasn't been creating content for very long, or very frequently, you likely won't have the content or the online visibility to go through this process. 
As a general rule of thumb, marketing experts advise that websites with domain authority lower than 35 probably won't see a lot of joy from this tactic. You can check your school's authority using this free tool from Ahrefs.
On a more practical level, you may also find that there aren't that many pages on your site that are competing for the same keywords, and consolidation doesn't make sense.
In other cases, the content your school identifies for consolidation might not actually knit together very well, making it impossible to create the long-form piece you want.
Consolidation is a great tactic for schools with a mature, longstanding content marketing strategy looking for a way to take it to the next level. For others, focusing on creating new content regularly is still your best bet.