Reading Time:
9
minutes
It's no secret that competition in the education world is more significant than ever. New generations of students are faced with a growing number of choices for their learning, with each school vying for their attention. With so many options available, it's up to your school to ensure that it remains a top consideration for potential students. 
Education marketing is about developing a brand that will reach potential applicants and deliver an informative, engaging and accessible message. But at its core, it's about highlighting what makes your school different from a host of other institutions. Once you've identified your unique selling points, you can harness digital channels to effectively market your school's message to appeal to new generations of students. This requires a combination of tailored branding and responsive web design. Read on to discover how you can set your school apart from the competition and engage prospective students in the digital landscape. 
Discover Your School's Unique Selling Points for Digital Branding
Every school is different, but part of the challenge of effective marketing is identifying precisely what your institution offers that others do not. With an increasing number of providers, your school's unique selling points should form the heart and soul of your marketing strategy. The goal is to keep your messaging relevant to target audiences while communicating your school's unique distinctiveness.
Meet the Needs of Students Today
Brand differentiation is about identifying the things that make your school different from its competitors and hammering that home in your digital channels. For instance, your school may offer different methods of course delivery that include in-person, online or hybrid learning. In that case, highlight the flexibility of programs at your institution and how it caters to the lifestyle of your target market. The global e-learning market size was valued at $197.00 billion in 2020, and is projected to reach $840.11 billion by 2030. If your school is uniquely positioned to meet the growing demand for online courses, it's worth highlighting those learning opportunities to prospective students. 
For example, Academy of Learning Career College has highlighted its commitment to delivering different learning styles using new technologies. This information is showcased on the homepage of their website. 
Source: Academy of Learning Career College
Position Your School as an Authority in the Field
Today, specialization is more important than generalization. In a crowded school market, applicants are looking to study under the best of the best, with high-quality content that is relevant to the industries today. 
In that case, highlight any areas of specialization that your institution is renowned for and lead with any courses that are accredited by awarding bodies within their industry. Additionally, advertise any partnerships your school holds with other education institutions to demonstrate its standing and reputation in the sector. 
For example, The University of Manchester has dedicated a section of its homepage to highlighting its global connections. This covers collaborative research projects, dual-award programmes and strategic partnerships that are unique to the learning experience at their institution. 
Source: The University of Manchester
Showcase Alumni Experiences to Engage New Students
Current and past students are your biggest advocates. Not only do the experiences of other students help to build trust in your institution and the education it offers, but they also lend themselves to the creation of a more personalized marketing strategy. This is where student testimonials come in.
Testimonials are a way for students to get to know a school beyond its curriculum and accreditations. It helps them to understand the opportunities that are open to them and envision their own experience in the footsteps of like-minded students. 
To make the most of this tactic, you'll want to make sure that applicants notice and engage with the testimonials in the first place. That means integrating them into your digital platforms wherever possible.
Through a "Testimonials" page dedicated to their School of Computing, Queen's University offers course-specific reviews that give prospective students a unique insight into a specialized area of study:
Source: Queen's University
A survey conducted by Bizrate Insights found that 91% of respondents in 2021 say they read at least one review before making a purchase decision on a business or service. By encouraging current students and alumni to leave reviews on your website and social media channels, you can not only improve the reputation of your school but also increase the level of online engagement that it generates. 
Bring Your School's Community to Life on Social Media
The decision to attend a school is a deeply personal one. Potential students want to feel that they can envision themselves studying – and even living – at your campus for a period of time. For that reason, any digital marketing strategy for higher education should focus on delivering highly personalized content. The best way to achieve this is to create a sense of community on digital platforms and give potential applicants a chance to connect with your school. 
For instance, you may create a space to introduce professors and discuss their notable achievements in their field. At the same time, you may lend a voice to the different clubs, teams and activities on offer to help interested students develop a more well-rounded and engaging picture of life at your school.
Durham University's Instagram page featured a post to welcome their new Vice-Chancellor and discuss her area of academic expertise. Including a photo and a short bio of individuals adds a personal touch to the school's account.
Source: Instagram
Harness Social Media Platforms to Connect With New Generations
There were 3.78 billion daily social media users in 2021. To break that down further, 84% of young adults aged 18 to 29 in the US are active social media users – a key target demographic for the higher education sector. Social media platforms have quickly become the easiest way for new generations to engage with your school and its community on a regular basis. 
For a school, social media is a great way to deliver information to parents and students. Not only should you keep social media platforms active with regular content, but also find ways to give a voice to prospective students and engage them in the community. To take advantage of these channels, open a dialogue with interested applicants and generate conversation through Facebook polls, Q&A's and open comment sections. 
Speak to Your Student Audience With Video Content
Video has quickly become one of the most appealing ways to communicate with an audience. Data on video usage and consumption indicate that 78% of people report watching videos online each week, with 81% of businesses using video in their marketing strategy. As the number of social media platforms continues to grow, delivering video content has never been easier. Apps like TikTok and Instagram allow schools to create short, snappy videos to engage viewers wherever they are. 
For example, Cambridge University created a TikTok post that gives viewers an entertaining glimpse of their Rowing club.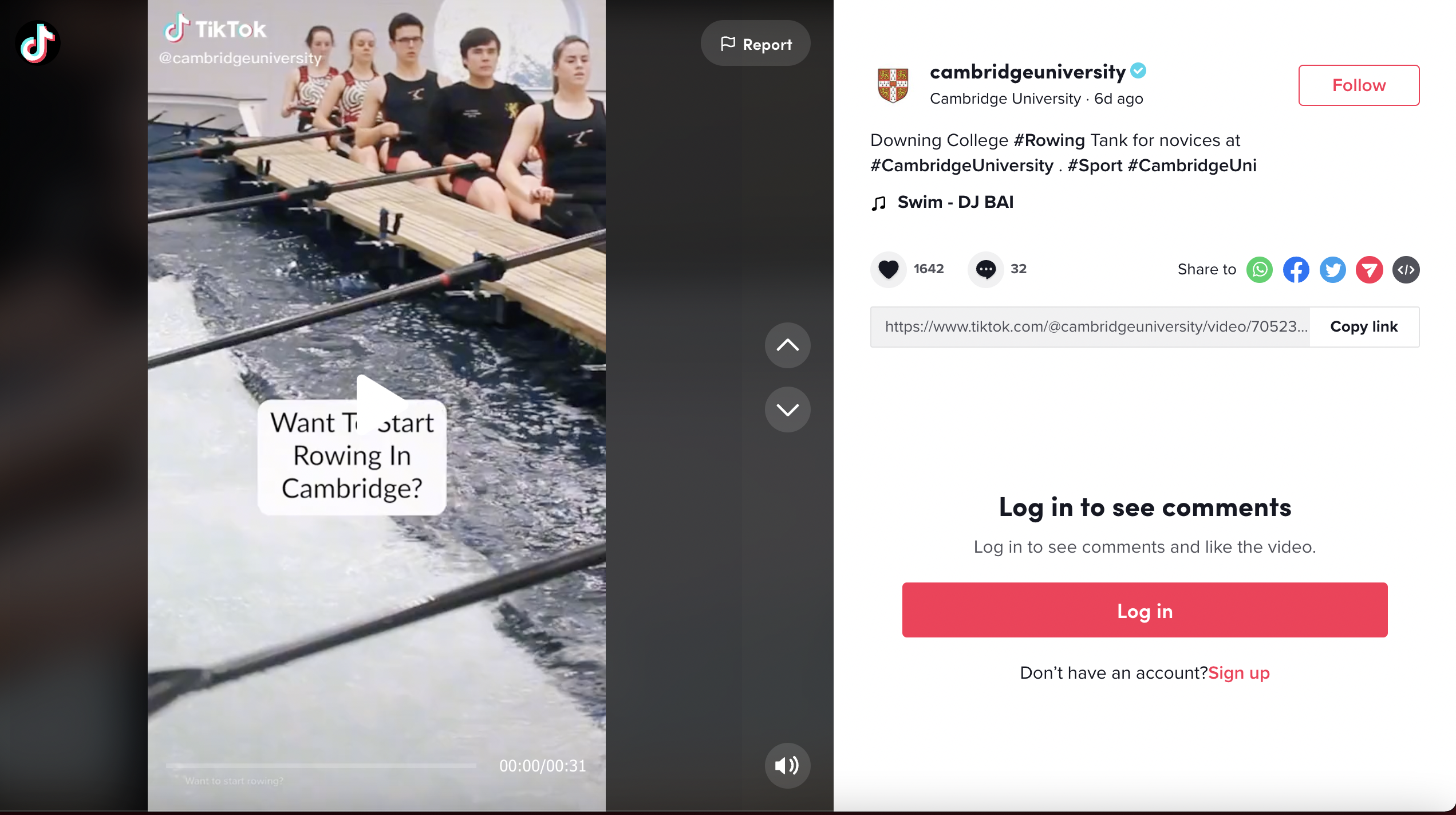 Source: TikTok
Inform Prospects of Upcoming Open Days and Events
There's nothing quite like seeing a school's campus with your own eyes. For prospective students, Open Days are often the events that make or break their decision to attend a school. This is a chance for your school to welcome applicants to your campus, showcase your facilities and put your best foot forward. However, it all starts with advertising these events and keeping the community informed on upcoming dates. The more awareness you build of your brand, the more opportunities you create for engagement. 
To maximize attendance at Open Days, promote events on social media and highlight important information, including times and locations. Here, Facebook is your school's best resource. The Events tool on Facebook allows you to invite prospective students and families and update them on any changes. 
Embrace the Ease of Virtual Events
Virtual Open Days are another way to engage even more applicants who may be unable to attend in-person events on campus. Due to COVID-19, more and more schools are opting for virtual events that have the potential to reach international students, as well as local students. 
Concordia University's Admissions page advertises a Virtual Open House for graduate and undergraduate studies, with a link for interested readers to register on the spot. 
Source: Concordia University
Optimize Your Website Experience
A major part of digital branding is implementing a web aesthetic that brings a distinct look to your school while capturing its key messages. Your school's website is the go-to resource for prospective students once they discover your school. First appearances are everything; they are the "hook" of your marketing strategy and the image that distinguishes your school from the rest. 
At its core, a user-friendly website should have a clear and professional layout. Replace big blocks of text with lists, callouts and subheadings that lend themselves to readability. The use of visuals and consistent colour palettes can also bring a unique and memorable design to your school's brand. 
The Bishop Strachan School has developed an appealing website design that features personalized images, their school colours, and their school's values. The text has been segmented into boxes with keywords in bold. 
Source: The Bishop Strachan School 
Inquiring students will want to see that your website is professional, accessible and responsive, in terms of both the information that it provides and how fast that information is delivered. Above all, your website should be easy to navigate. Remember, this is the vehicle through which potential students will learn about your school, ask questions, and enrol. 
Expand Your Reach With a Mobile-Friendly Website
According to Statista, mobile now accounts for approximately half of all web traffic worldwide. What does this mean for your school's marketing strategy? It is now essential to implement "mobile-responsive" web designs that can meet the needs of your audience wherever they are. If a website doesn't load or display properly on a range of mobile devices, it creates a negative user experience, and potential students are likely to miss the content on your school's website. 
A mobile-optimized website should present links that are easily clickable and page loading times shouldn't exceed three seconds. If viewers are more likely to return to your website, they are more likely to build a unique connection to your brand. 
For example, Columbia University's website offers mobile visitors an ordered layout with links to information on their facilities. A hamburger menu in the top left corner is there to direct visitors to their Admissions and Academics page. 
Source: Columbia University
Link Your School to Industries Today
To stand out in the education market today, your school needs to offer more than just training to students; it needs to offer an experience that will carry your students towards a successful future. Therefore, your brand should demonstrate the connection between your courses and professional advancement in the industries of today. Prospective students want to feel that an investment in your institution is an investment in their future. 
Blogs and other articles on your digital platforms are a chance for your school to highlight how its courses pertain to the real-world. You may share success stories of your graduates or discuss how specific courses can improve a student's chance of advancing their career or entering a new field. Additionally, your school can post other articles, news or research that may be of interest to potential students. This can help to link your school's brand to real world outcomes and cement its image of professionalism. 
For example, Massachusetts Institute of Technology features News and Research sections on their website that are dedicated to topics of interest in the fields of Computer Science, Engineering and more. 
Source: Massachusetts Insitute of Technology 
Articles such as this give prospective students a chance to engage with the school as a leading technological institution.  
Ultimately, differentiating your school from the crowd is about understanding the current state of the education market and what students today are looking for. Through clear and consistent messaging across multiple channels, you can craft an image of your school that leaves a lasting impression on generations of students to come.