Reading Time:
11
minutes
Email marketing is crucial to a successful digital marketing strategy, giving your school an effective channel that can be used to build and reinforce valuable relationships with your prospects. By using email strategically, you can reach your target audience and push them further down the enrolment funnel—addressing their needs, motivations, and concerns with a more direct and personalized approach.
It is estimated that by 2025, the number of global email users will reach a total of 4.6 billion and that over 376 billion emails will be sent and received per day, showing that email marketing is here to stay. Despite the rise of countless social media platforms and other digital marketing channels over the years, email marketing continues to garner a high return on investment (ROI)—with recent research revealing that the average ROI is $36 for every $1 spent in email marketing.
Schools looking for a reliable and stable digital marketing tactic can turn to email, creating an email marketing strategy to maximize their efforts. With the right strategy, you can begin crafting compelling and persuasive emails that leave a lasting impression, helping you boost your student enrolment numbers. Here's a guide covering the top techniques to make your email stand out.
1. Create Segmented Email Lists to Target Different Student Personas
A mass email is not always the best approach to introduce the latest news or reach your prospects. Instead, you'll want to analyze your target audience, develop student personas, and create messaging tailored specifically to each persona. This is especially the case, as research shows that segmented campaigns have generated a 760% increase in email revenue. 
Your school can rely on email segmentation to break down your email campaign and promote a more personalized marketing experience. Segmenting your audience into distinct categories ensures that your communication targets the right audience. The message connects with the reader and their need. It reaches those who want to hear it most. 
To get started with segmentation, consider the following points:
Where your prospect is positioned in the enrolment journey

(i.e. are they new or have they contacted your admissions team?)

Where your prospect is geographically located

(i.e. are they an international or domestic student?)

Which offerings your prospect is interested in

(i.e. available programs, learning formats, or different campuses)
Your school can also choose to segment emails by topic, focusing on financial aid, admissions, or student life. In situations with some overlap, your school can create a segmented list that combines different elements—such as a returning international prospect interested in online learning. By segmenting your emails, you can focus on the information your prospective students want or need most.
Share Content that Resonates with Your School's Target Personas
Once you have created your segmented lists, you'll be ready to start sharing content that truly speaks to your target personas. Consider crafting messages that directly align with their motivations and concerns, showcasing what your school offers and how it can benefit them. This can help your school maximize its return on investment, transforming email campaigns into powerful tools that reinforce your school's relationship with its prospects.
Example: This email from Griffith College focuses specifically on the various learning formats available, boasting a flexible schedule for prospects. Tailoring your content to highlight email recipients' specific motivations and concerns and providing solutions via your programs can make your school appear more appealing.
A drag-and-drop email editor from HubSpot can help you grow your company's email marketing initiatives. Utilize marketing email campaigns to advertise exclusive deals and provide subscribers with updates.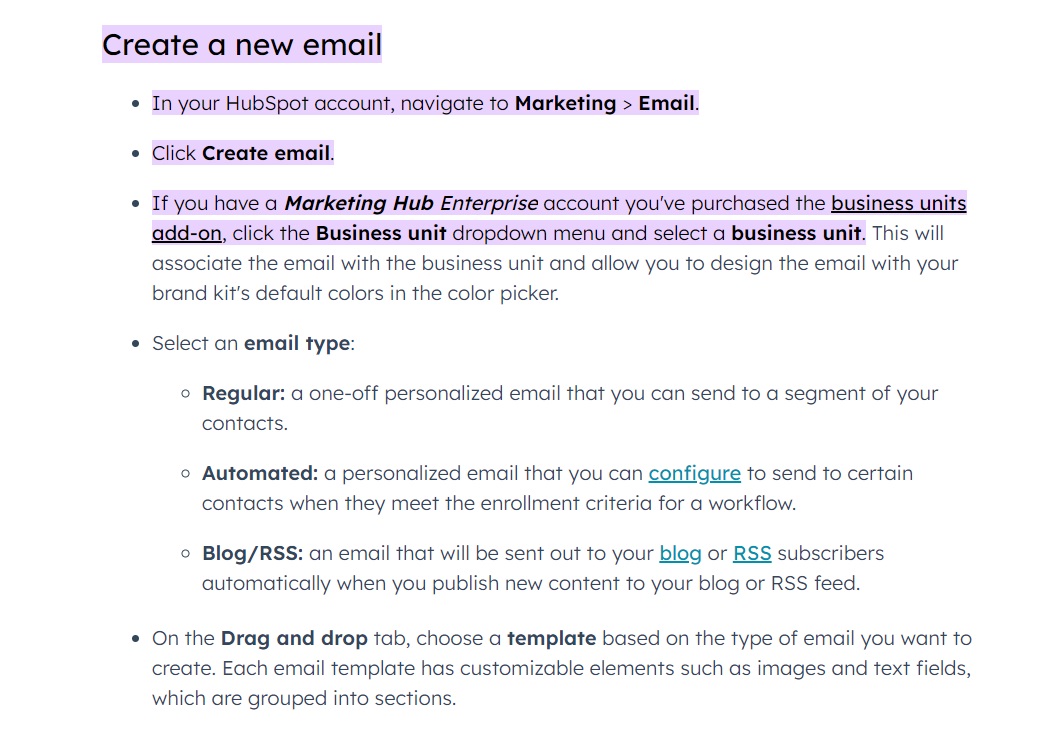 Source: HubSpot
Maximize the Benefits of Automated Email Marketing Workflows 
Email workflows work particularly well with segmented audiences, creating opportunities for lead nurturing via messages that further inform and delight your prospects. Customer Relationship Management (CRM) software can make this task even easier for your school. 
With a CRM, you can segment your leads, design and personalize your school's emails, and create complex email workflows for various purposes—including admissions deadlines, student follow-up, event participation, and more. These workflows would then introduce information and resources that appeal to your prospects at exactly the right stage in their enrolment journey.
Example: Algonquin College utilizes an email autoresponder triggered once prospects fill out an inquiry form. The automated email shares a captivating header with a student quote and links to different resources that may interest prospects early in their application. 
2. Refine Your Subject Line for College Admissions Email Marketing
Your school's email subject line can make or break your email marketing efforts, making it one of the most important things to focus on when starting your email marketing campaign. For that reason, you'll want to optimize your email subject line to ensure that it encourages prospects to open and read your full message. Here are some things to keep in mind when crafting your subject line:
Keep it short, clear, and compelling

Personalize wherever possible 

Embrace calls to action (CTAs) 

Test whenever possible 
You can provoke various reactions with your school's subject line for college admissions email — using it to prompt quick action by creating a sense of urgency with a clear CTA (i.e. "Last Call – Register Today") or simply generating intrigue by highlighting topics that your prospects are sure to want to learn more about. The latter describes the approach that the Toronto Film School took in the following email:
Prospects and students interested in film school are likely invested in perfecting their portfolio. By choosing a highly relevant topic to its prospects, Toronto Film School can ensure higher open rates. Including the word "video" in the subject lines also adds to the email's appeal, allowing the school to send an engaging piece of content directly to a prospect's inbox. 
3. Embrace Hyper-Personalization to Cultivate Meaningful Relationships with Prospects
Today's digital age has made data a crucial aspect of business across multiple sectors, including education. Hyper-personalization is about using the data you collect on different prospects to create a custom experience on your website tailored to their specific interests and behaviours. According to research by Cognizant, 38% of Gen-Z participants prefer online ads that reflect their browsing history and entertainment preferences.
Consider using this technique to delight your prospects and show how your school cares and pays attention to their unique needs and interests. You can start with personalization tokens to add a prospect's name and other information into an email template. This can be seen in Cumberland College's email below, with bracketed information pulling in a lead's registered name:
Your school can also use hyper-personalization to send promotional emails, promoting certain programs or courses that prospects will likely find interesting based on their data. Another approach is to use hyper-personalization for trigger emails, like an abandoned application. Doing so can help your school re-attract prospects who have yet to reach the enrollment funnel's end, urging them to revisit their unsubmitted application. Personalizing prospects' experience in this way can help your school stand out even further from the competition. 
Adopt an Approachable Tone that Aligns with Your School's Brand
Maintaining a conversational tone in your education email marketing can help you stand out from other schools—especially those who rely on an overly formal and distant way of writing. Being friendly and conversational makes your school feel more approachable, reinforcing a closer relationship with your prospects. When doing so, avoid spam-triggering words and follow email best practices.
Ultimately, your school's brand should always remain consistent. If a conversational tone does not align with your brand messaging, it's best to avoid forcing a sudden shift. In this case, you can structure your email content to appeal best to your target persona.
Example: Besides adding the recipient's name in the email subject line, Bishop's University adopts a casual tone to speak to its prospects. 
This combination makes the email challenging to overlook. The following light-hearted message includes emojis and a banner that perfectly reflects the University's branding. 
Speaking to prospects this way allows them to feel closer to the University—making these education marketing emails more distinctive.  
4. Promote Key Actions by Including Compelling CTAs in Your School's Emails 
It may come as no surprise that CTAs are an integral part of any of your digital marketing campaigns, offering prospects an action they can take. In email marketing, CTAs can effectively boost your click-through rate (CTR)—the percentage of people who click a link in your email.
This A/B campaign shows that having a single CTA in an email can increase your CTR by 42%, proving how impactful CTAs can be.
CTAs give your email a structured focus, directing your prospects' attention toward the specific actions that your school wants to encourage. When done well, a compelling CTA can guide your prospects directly to your school's website, increasing your traffic and their chances to discover new opportunities with your school.
You can place a CTA in the email subject line and the body of the email itself. The example below shows how Westervelt College integrates a Campus Tour CTA in the subject line of an email sent to prospects who have just completed a Career Readiness quiz on the site:
The conversational tone and timely CTA make it difficult for prospects to ignore, propelling them to pause and follow through with the desired action. These factors can help your email marketing campaign stand out in an overcrowded inbox.
When considering CTAs in the body of your email, you'll want to create something that immediately stands out. A clean and modern design is a great starting point, allowing you to remove any potential distractions. Research also shows that using a CTA button instead of a regular text link can increase your CTR by 28%, especially as they are even harder to overlook. Choosing to feature a big CTA button with a contrasting colour and many whitespaces makes your email's design more appealing.
Example: The London Business School uses this approach with its email to prompt prospects to complete enrolment. The email is minimally designed, with a branded header and an eye-catching CTA. The size and colour also make it pop, drawing attention to that desired action.
Pro Tip: Consider adding social media sharing buttons to the bottom of an email as a way to encourage and generate even more engagement with the content you create.  
5. Add Interactive Features to Engage Your School's Prospects
A common question is: which email is best for email marketing? Interactive emails incorporate features that promote user engagement and participation. The focus is on providing a fun and memorable email experience, attracting interested prospects, and motivating them to stay on your email for a longer period of time. In this way, interactive emails can make your marketing efforts stand out. 
There are different ways to add interactivity to your school's emails. One way is to embed videos that instantly appeal to your target audience. An admissions case study shows that an email with an embedded video has a 12.6% higher engagement rate than a text-based email, boasting a 90% open rate and an 83.3% CTR. 
You can also choose to share GIFs in your school's email, which can be used in the same way as regular JPEG images. These GIFs add a touch of action, making your email look livelier and more current. According to this Litmus study, brands that use animated GIFS in emails always or often see an ROI of 37:1, while those who never use GIFs see an ROI of 18:1. 
The image below shows an email from the Vancouver Film School notifying prospects of upcoming online workshops and certificate courses. The email features countless interactive features, including the banner image (an animated GIF), two functioning buttons at the upper right-hand corner (for calling or emailing the school):
Scrolling further down, prospects are treated to more interactive features, with topic-specific animated GIFs to introduce different program offerings. It should be noted that these GIFs are purposefully placed not to distract or overwhelm prospects but to add to their overall experience instead—delighting prospects and generating excitement. The dark background also strengthens the design and emphasizes the focus on each element.
6. Optimize Your School's Emails with A/B Testing for Education Marketing Success
Testing your emails before sending them out ensures maximum impact, helping your school make the most of its email marketing efforts. There are various elements to consider when approaching email marketing for educational institutions. This includes drafting compelling subject lines, crafting the right copy text, using strong visuals, choosing the right email length, and knowing when to embrace plain text versus HTML emails. 
A/B testing allows your school to analyze the impact of each of these elements, allowing you to optimize and refine your strategy. The Litmus study mentioned previously shows that conducting A/B tests for emails generates an ROI of 42:1, compared to an ROI of 23:1 for those who avoid A/B testing. These tests can help your school avoid making unnecessary mistakes, giving you the insight to hit the ground running with an effective email marketing strategy. 
Besides, small changes –- despite appearing insignificant –- may have a huge impact on your overall campaign. By continuing to test new features and optimize your efforts, you can ensure your email marketing campaign overshadows its competition. 
Remember to Optimize for Mobile and Tablet Displays
Mobile web traffic plays a significant role in digital marketing, making mobile optimization an essential consideration for any school seeking to attract new prospects. The same can be said about mobile email marketing. According to Aedestra, 60% of email opens happen on mobile devices—and MailChimp's data reveals that a mobile-responsive email design can help increase unique mobile clicks by 15%. 
That is to say, mobile optimization should not be forgotten when creating your email marketing campaign. A well-designed, mobile-friendly email creates a positive user experience that can reflect a positive image of your school. 
Example: The email sent by Concordia Continuing Education is designed with mobile in mind, making it easy to scan and navigate the email on a smaller screen. The text is legible, and links are appropriately spaced to avoid accidental clicks. These mobile-friendly design choices make this email more effective, especially for prospects using mobile or tablet devices. 
Prioritize Click Rates and Conversions—Not Just Open Rates
There are various email metrics to consider when measuring your school's performance. This includes email open rates, click-through rates, and bounce rates—the percentage of emails that have failed to reach the intended recipients. 
Focusing only on open rates can prevent you from analyzing the overall picture, making it difficult to determine how effective your school's email is at engaging prospects (CTR) or how often your email could be landing in your prospects' spam folders (bounce rate). With these metrics in mind, you can work to further enhance your email marketing efforts and ensure your continuous success.