Reading Time:
9
minutes
The ever-changing landscape of social media marketing seems to be shifting once again, with two major players announcing changes to their newsfeeds that could have far-reaching repercussions for marketers. February brought the news that Twitter was launching an improved timeline based on an algorithm that prioritizes Tweets from accounts that users interact with most at the top of their feed. Just one month later, Instagram announced that it would implement a similar algorithm, which will be rolled out in select regions before becoming fully operational across the platform later this year.
Both social media platforms had previously used chronological timelines, a format which was popular with their user bases, and the changes have been greeted with skepticism by consumers and brands alike. Both companies have defended their decision, claiming the changes will provide a better experience for users.
For student recruitment professionals, the new algorithms pose a number of challenges, but also provide an opportunity to revaluate and optimize their social media strategy, ensuring their posts will continue to engage with their audience and attract new leads.
Why Have The Algorithms Been Brought In? The Changes Explained for Recruiters
Instagram has been one of the biggest social media success stories of recent years. Millennials quickly fell in love with the intuitive, visual nature of the platform, and it has swiftly risen in popularity, with over 400 million users now active on the social media channel.
However, as its user base has grown, so too has the number of posts on the platform, making it easy for people to miss the posts that will interest them the most, and leading to decreasing engagement. The company now claims that users don't see an average of 70% of posts in their feeds.
The new algorithm is designed to change that, as each user's newsfeed will be based on "the likelihood you'll be interested in the content, your relationship with the person posting, and the timeliness of the post."
Twitter's introduction of an algorithm-based feed aims to achieve a similar end, but for very different reasons. The rise of Instagram has seen Twitter users migrate away from the platform, with the company reporting a decline of almost 2 million monthly active users in the last quarter of 2015. Twitter executives had hoped the algorithm would help the company regain some competitive advantage over its rival, but it now appears Instagram is aiming to beat Twitter at its own game.
Refining Your Higher Education Social Media Marketing Strategy for Instagram
So how can recruiters ensure that their higher education social media marketing strategy doesn't suffer as a result of the changes on Instagram? For a start, the most important thing is to take a "quality over quantity" approach to your posts. While the old chronological feed naturally allowed users who posted more frequently the gain more visibility, the new algorithm aims to reward those who produce more engaging posts.
Essentially, schools need to re-evaluate how they define success in their Instagram strategy. Like Facebook before it, many institutions used to believe that having a large amount of followers automatically meant their approach was working. However, if these followers are not engaging with your posts on a regular basis, the new algorithm means that your school will slowly become invisible on their Instagram feeds.
Having a firm idea of what type of content connects with an Instagram audience is essential. Market research firm TrackMaven recently published a study of US universities' Instagram accounts, which measured each school's engagement rate by tracking the amount of interactions per 1,000 followers that their posts produced. The strategies of the schools with the highest engagement rates were surprisingly simple, with most focusing on visual appeal, timeliness and relevance for their students.
Here are just a few things to keep in mind when trying to create more engaging posts for your school's Instagram page:
1. Create unique visuals of your campus. While it may seem like every school uses Instagram to showcase the beautiful scenery of their campus, this strategy is still very effective, and has been proven time and again to resonate with the site's audience. However, it is important to ensure that your posts stand out from the crowd. Try experimenting with filters, light, and shade to produce more striking shots.
2. Add some authenticity to your feed. It's important that your Instagram feed feels authentic, and gives prospective recruits a sense of what life on campus is really like. While beautifully crafted images get attention, candid posts resonate with users more. Allowing students to contribute their own photos can help. This tactic will also increase engagement within your current student body, which can often have a "trickle-down effect" to potential recruits.
3. Make use of 'influencers.' While it wouldn't be appropriate for a school to enter into the sort of paid endorsements deals commercial brands engage with on Instagram, there's nothing wrong with making the most of any connections you have to influential figures. Highlighting guest speakers or celebrity visitors to events on your campus can be a great way to raise your school's profile.

Example

: Dartmouth University, which has one of the best Instagram engagement rates in the US, makes good use of its connections. The below post, which promotes a speech given to students by Democratic presidential candidate Bernie Sanders, is also quite timely, increasing its chances of achieving high visibility.

4. Use video well. Instagram's easily digestible videos are popular with users, but while the company recently announced it would be allowing clips up to 60 seconds in length, it can still be tricky to make interesting content within such a short timeframe. Pick your moments wisely, perhaps capturing key highlights in college sporting events or important parts of presentations at conferences. The platform's Hyperlapse feature is also well worth utilizing to give your followers a compressed campus tour.
5. There's nothing wrong with classic Instagram tropes. While the idea that Instagram is full of photos of cute animals and delicious-looking food might seem clichéd, this sort of content does resonate with users, and including it in your colleges feed can be an excellent way of increasing engagement, provided you connect the posts to some relevant, valuable information for your followers.

Example

: Georgetown University's Instagram page came out top in TrackMaven's report, with an impressive average of 75 interactions per 1,000 followers for every post. You'll notice how the school includes plenty of scenic shots of its campus and candid photos of campus life, as well as making especially good use of its adorable Bulldog mascot Jack! However, the school also finds ways to make its posts interesting and relevant, tying each one into events on campus.
While maintaining your visibility on Instagram will be a challenge once the new algorithm goes live, there are some positives for schools. One area where the non-chronological newsfeed could prove extremely beneficial is
international student recruitment
. Currently, many students that international recruiters wish to target live in different time zones, making them more likely to miss posts when they are being shown chronologically.  An algorithmic timeline means that international users are actually more likely to see and engage with your posts.
Using Analytics to Evaluate Your School's Instagram Posts
As the Instagram algorithm rolls out, another positive outcome marketers are hoping to see is the development of better analytics for the social media channel. While Instagram shares its ad platform with Facebook, it does not yet provide the same level of analytics as its parent company, with no equivalent of native analytics tools like Facebook Insights available.
However, as the company looks to grow its paid advertising revenue, it will be under pressure to show that the service provides value for money, which could lead to improved reporting. In the meantime, colleges might consider using external analytics tools to help measure their organic reach and ensure it is not being limited by the changes to the feed. Programs like Simply Measured, Iconosquare, and Sprout Social provide great analytics tools for the site, including useful metrics for measuring engagement rates and follower growth, as well as providing detailed reports that will help determine the best days and hours to post in order to maximize your post reach.
Strategies for Twitter: The End of Real-Time Marketing for Universities?
Some critics have voiced concerns that switching to an algorithmic newsfeed will actually destroy the one advantage Twitter enjoyed over its competitors. Despite its decline in popularity, Twitter's real-time feed has helped it remain the go-to social network for breaking news stories, and it frequently sees a surge in visitors as significant events unfold.
For marketers, the chronological feed also provided the perfect platform for real-time marketing campaigns, which many feel will have difficulty gaining traction in an algorithmic system. This could be particularly worrying for recruiters, with many school's having seen great success with real-time campaigns in previous years.
Example: In the "One Day at Duke" campaign, Duke University invited its followers across a variety of social media accounts to submit tweets, videos and photos over a single day in 2013, which were then made into an advert for the school. The campaign was a resounding success, but would it have had the same momentum had Twitter been using an algorithmic feed?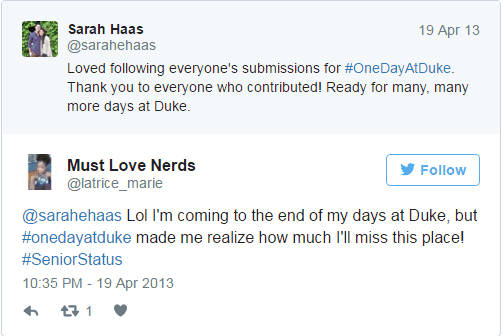 Despite these concerns, it's still possible for schools to thrive on Twitter. Like Instagram, crafting quality posts that resonate with the audience is the crucial. Recruiters should also pay special attention to hashtags, which could have renewed importance in ensuring their posts are seen, as brands in all areas seek to post timely content and jump on trending hashtags about current events in an effort to gain visibility.
While you may not always have the luxury of being able to link your posts to the hottest topics, you can still find ways to capitalize on newsworthy events, perhaps linking to an article on your website that pertains to a topical issue, or promoting your school's participation in events around your hometown or region.
Example: Situated right in the heart of New Orleans, Tulane University students naturally get heavily involved in the city's annual Mardi Gras festivities. The school's Twitter account does a great job of capitalizing on this with some timely Tweets.
The new algorithm also makes it more important than ever to interact with your followers. On an algorithmic timeline, retweeting and favouriting other user's posts can provide much more of a boost to your visibility, and may need to be assigned more importance in your analytics. Responding to followers Tweets will also help you, making your posts more likely to show up in that user's timeline in the future.
While the new feed will undoubtedly change the way people use Twitter, it's important not to overstate its impact. Schools can still develop a successful strategy by reviewing and measuring their results with Twitter Analytics. They merely need to refine their goals, focusing less on their follower count and post quantities and aiming for quality posts that produce greater levels of user engagement.
Challenges for Education Lead Generation in the New Social Media Landscape
Critics of the algorithms have pointed to the decline in organic reach Facebook Pages have suffered as the result of the company's previous algorithm tweaks. The social media giant has been accused by marketers of throttling the reach of brand pages deliberately in order to increase paid advertising revenues, with research from Locowise showing that average organic reach on the site had decreased to just 7.15% of followers per post by December of last year.
As their ability to reach students on Facebook has been limited, many student recruitment professionals have turned to Instagram and Twitter as valuable alternative channels for education lead generation. With the new algorithm changes, the worry now is that those sites will suffer a similar fate. On the plus side, this will mean that schools who are able to pay to promote their content will receive more value for money, with increased visibility and less competition, but those with more limited budgets may struggle.
As always, however, quality content will rise to the top. Universities that produce insightful, well thought out posts with real value for prospective recruits will still find more success that those that don't, regardless of whether its paid for or not.