Reading Time:
3
minutes
In the world of higher education marketing, working with stretched or limited budgets is pretty much normal operating procedure. Choosing between investing in SEO and PPC marketing is a common dilemma faced by many college marketing managers as they strategize to meet their marketing and recruitment objectives.
In a previous blog post entitled, "SEO vs PPC in Higher Education Marketing, Where's your Spend?" we discussed the relative merits of each and provided some general strategies to help you decide when to use them optimally. We wrapped up that discussion suggesting that SEO and PPC are actually quite complementary strategies, rather than competitive. Because of the interest in that original post we thought we would continue this discussion and provide more detail on how these two marketing approaches can be integrated to complement each other and further your marketing goals.
So how exactly can SEO and PPC campaigns complement each other? And what are some of the specific marketing benefits if you use them in a coordinated way?
1. Increase your site's visibility by dominating the Search Engine Results Page (SERP) for a particular keyword phrase, with both PPC and organic search results. In the following example HEM's PPC and organic listings clearly dominate the upper half of the Google search engine results page for the search term "higher education marketing".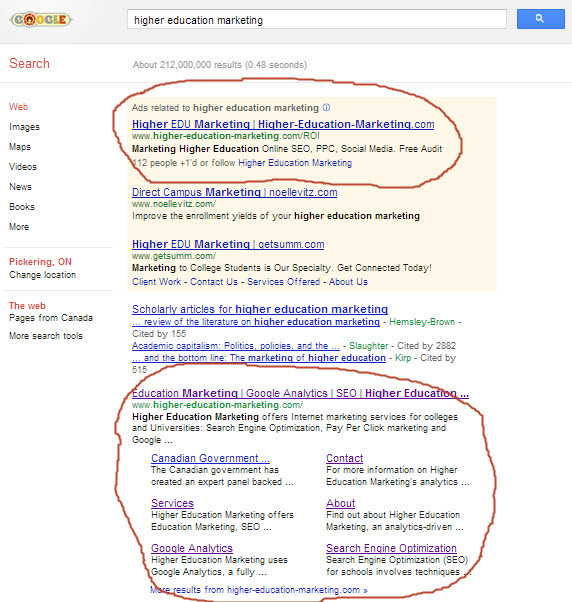 So from a visual and a branding standpoint the combined presence of the two listing clearly dominate the page. But from an the ROI point of view the more important question is, "Is there an additional lift in results from the combined presence of organic and paid search results beyond what would be produced for each of them separately? ICrossing, a large international digital marketing agency, have conducted comprehensive research on this topic and concluded that there are synergistic benefits to natural and paid search, as follows:
Our specific results have not been quite as dramatic as this study reports but we've certainly found that the impact of SEO and PPC listings together on a SERP is definitely greater than the sum of their parts.
2. Use high performing keywords and copy from your PPC campaigns to improve your on-page SEO. For example:
– Conduct a content gap analysis to determine if you have any high performing short or long-tail PPC keywords that are not adequately represented in your site's content. If this is the case, you need to get to work and add quality content (ie related blog posts or related resource material) to address them. – Use appropriate terms and phrases from your PPC campaigns and landing pages that you know effectively attract and convert traffic within your website's page titles, header tags and meta descriptions.
3. Use your SEO keyword research, site development and site experience to improve your PPC campaigns. For example:
– Identify new keywords for your PPC campaigns by reviewing the popular phrases searched on by visitors who have used your site's internal search functionality . – Refine your PPC keyword match types for improved performance by reviewing your site's organic search results and tweaking the PPC match types to better match organic search intent and search frequency levels. – Use lessons learned from Content Experiments to improve your general page's goal performance to tweak and improve your PPC ad and landing page copy.
4. Use the immediate lift of PPC campaigns to stabilize lead generation through periods of organic rank instability. For example, in some cases with website redesigns, whose purpose of course, is to improve your traffic and lead generation, will cause drops in organic search ranking as you work out the kinks of a new site implementation. Short term PPC campaigns can be used to address this issue by creating compensating increases in traffic and lead generation to reach and maintain your ongoing registration goals.
These are examples of some of the marketing benefits you can achieve by approaching your SEO and PPC marketing in a coordinated and complementary fashion.  Are there other ways you have successfully integrated your SEO and PPC activities that have positively impacted your marketing ROI?
We would love to hear about them and will definitely pass them along to our readers.