Reading Time:
8
minutes
Most colleges, universities and language programs across the globe are fully aware that Latin America is now one of the world's most important markets for international student recruitment. And they're under mounting pressure to connect with this discerning body of highly motivated degree-seekers.
But where to begin? In order to stand out from the crowd, schools must understand what is prompting Latin American students to seek education abroad, and demonstrate how their programs and resources can help.
While local agents and "on the ground" marketing still play an important role in the recruitment process, online marketing has grown increasingly powerful in bridging the geographical divide between your school and students overseas.
So how can you ensure your institution is visible to Latin American students during their online search process, and that your messaging is aligned with their wants and needs?
Here are 5 ways to get discovered by, and persuasively connect with, Latin American students online.
1. Focus on STEM Subjects to Attract Latin American Students
Limited access to technology, research grants, and expertise at home has prompted thousands of Latin American students to pursue STEM degrees abroad, at institutions where they can develop the specialized knowledge and skills needed to advance their careers.
Brazil, Mexico, Chile, El Salvador, Ecuador, and Colombia have all pledged support for science, technology, engineering, and math students. In addition to investing in domestic STEM resources, these countries have launched study abroad scholarships and forged partnerships with post-secondary institutions in favourite destinations such as the UK, the United States, Europe, and Canada.
Brazil for example, committed to sending 100,000 STEM students abroad to complete part of their undergraduate or graduate study (as part of their well-known "Brazil Scientific Mobility Program").
Mexico has also committed to providing 4,000 study abroad scholarships, with engineering topping the list of chosen degrees.
These students are looking for specialized programs, hands-on training, and access to top quality facilities.
To capitalize on the trend, educational institutions across the globe are now targeting Latin American STEM students with unique study, research, and internship opportunities.
Cornell University, for example, recently hosted 37 STEM students from Latin America as part of their summer research program. Each student (coming from Colombia, Venezuela, Guatemala, and Cuba) was matched with a like-minded professor, and granted access to cutting-edge technology and research facilities.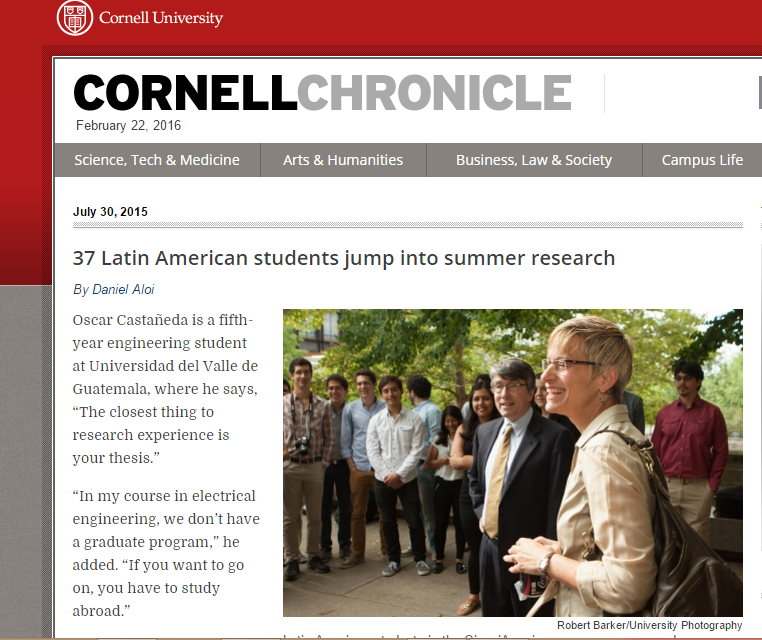 And you don't need a big budget or high-profile brand to offer resources Latin American students will appreciate. Here's a simple, yet savvy, example from CultureWorks – an ESL program that helps international students meet English language entrance requirements for Canadian universities.
In order to attract students destined for STEM degree programs, CultureWorks offers a special elective that will give participants an extra edge going into their program.
Their Engineering and Technology course helps familiarize students with the vocabulary they'll need to excel in engineering, technology, and applied sciences contexts.
Acknowledging the specific academic goals of Latin American students, and offering resources to support their success, will help set your institution apart from competing schools who pursue a more generalized, one-size-fits-all approach to international student recruitment.
2. Promote Your Resources for English Language Learning
In addition to STEM subjects, Latin American students often cite English language learning as a top educational goal – and challenge.
The 2015 QS Digital Solutions survey reveals that many Latin American students are concerned about completing the TOEFL and IELTS. They are worried about affording prep courses and the exams themselves, as well as the required investment of time and energy.
Colleges and universities hoping to attract Latin American students should consider how they can help provide easier access to ESL education on campus, or through partner language programs.
Dalhousie University does a great job of addressing this issue on a section of their website dedicated entirely to Latin American student recruitment.
They highlight their commitment to helping student meet English language requirements up front, on their slider:
Further down the page, Latin American students are invited to explore Dal's own ESL program, which provides comprehensive training in essay and report writing, conducting academic research, preparing oral presentations, and more.
Crucially, Dalhousie offers direct acceptance to the university for eligible students who successfully complete the program – eliminating the need for the IELTS or TOEFL exams.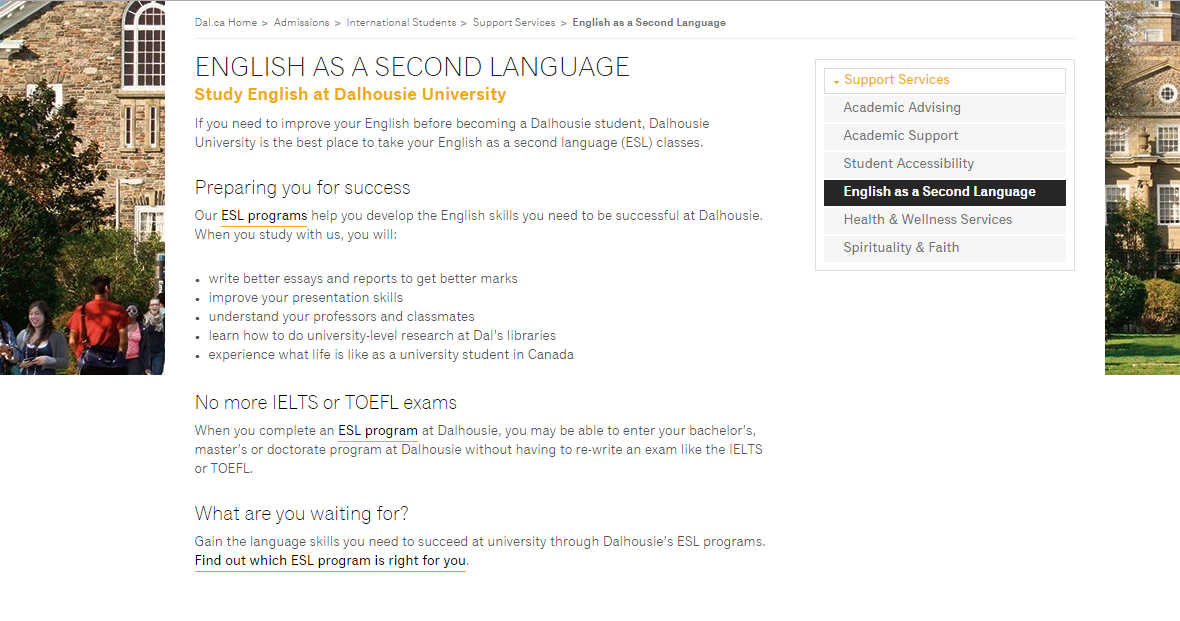 If your school provides ESL resources, or is partnered with an English language pathway program, it makes sense to promote these attributes to Latin American audiences – on a dedicated website section like Dalhousie does, and across other channels you use to recruit international students.
3. Target Latin American Students at American Community Colleges
Are you an American university hoping to recruit students from Latin America? It's quite possible that your best prospects are already in the US – and enrolled at a community college.
According to ICEF Monitor, "Community colleges are an increasingly important pathway for international students to access US higher education," and are "particularly attractive options for students in price-sensitive markets such as countries in Latin America."
Latin American students begin at American community colleges and then later transfer to universities to complete their education.
In order to attract cost-conscious international applicants, community colleges in the US are developing articulation agreements and "2+2" programs with four-year institutions.
On the other end, four-year institutions looking to recruit from Latin America are taking part in increasingly popular "international transfer fairs" coordinated by community colleges.
Here's an upcoming fair advertised on the Everett Community College website:
There are also education portals, such as "Study Illinois" that organize transfer fairs for international students. For a fee, universities can set up a recruitment booth at the event, which is free for students:
Bottom line? Alliances between community colleges and four-year institutions could prove highly effective for attracting Latin American university hopefuls constrained by limited budgets.
4. Leverage Geo-targeted PPC & Spanish Content Marketing
Whether you're a language school, community college, or four-year university, being easily found and highly visible online are key to successful Latin American student recruitment.
A combination of inbound marketing and paid advertising is ideal for reaching out to prospective Latin American students, and getting "on their radar" during the decision-making process.
Here are a few ideas to get started.
Geo-targeted PPC
Cost-effective, mobile-friendly, and measureable, Pay-per-Click (PPC) advertising is highly efficient way to generate inquiries from prospective Latin American students. In addition to consulting with agents, international students use online search to narrow down their post-secondary options overseas. PPC helps your school get listed at the very top of their search engine results page.
With PPC, you can tailor advertising messages by language, location, and keyword. You could reach prospective engineering master students in Peru, in Spanish. Or target prospective Chilean science undergrads in English. You could also target potential Latin American transfer students who are already in the US.
Use your ads to highlight your helpful ESL program, exciting STEM degrees, low tuition rates, or cutting-edge research facilities.
Ad extensions can help you embellish the 3 short lines of copy permitted in basic PPC ads. With extensions you can add:
A map with your school's location
Images of your facilities, campus, students, etc.
A click-to-call phone number leading directly to Admissions
Geo-targeted PPC ads combined with effective landing pages will quickly help your school generate quality student leads from Latin America, while reinforcing the marketing messages most important for this target audience.
Spanish Content Marketing
Using inbound marketing to recruit students demands high quality, personalized content. Personalization makes the recipient feel like you understand their goals and challenges, and have taken the time to create materials that are genuinely helpful and inspiring. In return, your target audience is more likely to trust your communications, engage with your content online, and seek out your expertise.
Offering brochures, blog posts, video interviews, and testimonials in Spanish is one way to personalize your content marketing and attract more Latin American students to your digital channels.
Here's an example from York University, who offers prospective students and their parents a "fact sheet" in Spanish. This interactive flyer provides useful information for future international students, including admission deadlines, links to relevant sections of the YorkU website, study costs, and top reasons international students select York.
A relatively short and simple piece of content, this flyer makes discovering the university, and navigating its large website much easier for Spanish-speaking prospects.
Here's another great example from Good Hope Studies, an English language school in South Africa. They have posted several video testimonials (in Spanish) from Latin American students on their YouTube channel. These videos are organized by city and country, so visitors can quickly zero-in on students with whom they share the same regional background:
And one last example from John Cabot University who offers a selection of Spanish language blog posts written by Latin American students.
Amplify your Spanish content (blog posts, interviews, testimonials, brochures, viewbooks, etc.) on social media and you'll start to see increases in membership, inquiries, and website traffic from Latin American prospects. And don't forget to do your Spanish keyword research. Incorporate Spanish keywords into your inbound marketing content to help your school rank higher for relevant search queries in Spanish.
5. Bridge the Gap with Latin American Student Ambassadors
Both the John Cabot University and Hope Studies examples point to the importance of enlisting the help of student ambassadors to connect persuasively with future Latin American students.
When it comes to creating Spanish content, many schools simply may not have the marketing budget to hire translators or new bilingual staff. Plus, recruiters know authentic success stories from current students and alumni inspire and motivate more than any marketer-generated content.
If you want to reach more Latin American audiences, consider asking a few current Latin American students to share their experiences, in Spanish and English, on your school blog and social channels. Gather a collection of testimonials and interviews to distribute strategically across your website. Target sections you know Latin American students will visit to research your programs.
Ask your ambassadors to host Spanish Q&As on Twitter and Google Hangouts. Create a YouTube playlist just for Latin American students. The possibilities are endless once you've got willing participants who can speak passionately about how attending your institution has enriched their lives.
What other tactics have you used to recruit from Latin America? We'd love to hear your observations or questions in the section below.