Reading Time:
4
minutes
Because you've been so busy marketing your existing programs you may not have noticed that competency based degrees, diplomas and certificates have recently become very mainstream. Inside Higher Ed recently reported that over 350 higher ed institutions now offer or are considering offering, degree tracks that incorporate competency–based education.
          Definition: Competency-based learning refers to systems of
          instruction, assessment, grading, and academic reporting that are based on
          students demonstrating that they have learned the knowledge and skills they
          are expected to learn as they progress through their education.

If your institution has not yet ventured into this type of program delivery, they likely will soon, as government funding for these programs in both the US and Canada gets firmed up. Here's a primer on competency based education from CAEL if you are just getting up to speed. It's a couple of years old but it is really quite good. If you know your institution is considering moving forward with competency based programs but doesn't yet have the internal resources and know-how to do it, you might refer them to a company like Educate-Online.com that provides resources and services to help higher ed institutions offer this type of program.
So, for those of you who are either in the midst of launching or just getting your heads around marketing these types of programs, here are three useful tips to help you get focused on the right pieces in your digital marketing mix to effectively launch and roll them out.
Tip 1 – Focus your content strategy on educating your prospective student 
Prospective students must understand what this is and why it is of potential value to them before they will look harder at your program. Competency based learning is a new concept to most people so you need to develop lots of content on your blogs and website that explains what this is and positions your school as a leader in the area. Don't just start to market to them or they will end up spending more time on other school's sites getting their heads around it and may or may not ever make it back to you. A really good example of how to do this comes from Southern New Hampshire University's College for America. You need to realize that this is who you are competing with for students so make sure you deliver a robust, high quality content footprint as well.
Western Governor's University, another early entrant into competency based learning also does a great job at education but takes it a step farther in an effort to inform and qualify prospects with an online quiz. As they point out, competency based learning is not for everyone. It requires someone coming to the table with previous relevant experience and with the drive to seriously pursue an accreditation on their own.
Tip 2 – Implement an SEO strategy to ensure your programs get found by prospects
Everyday SEO on your program pages might get you noticed. To really attract prospective student traffic you must get your SEO house in order. That means you must produce regularly refreshed, high quality content that addresses your prospective student personas (see Tip 1) and you must incorporate the critical keywords that the prospects in this emerging market place are using to search on. Keyword research is required to help you identify what these are. I have noticed that some institutions are using a kind of "branded" approach in how they identify their competency based program, including;
          "Flex-choice" at Rasmusson College,
          "Accelerated IT Program" at Broward College,  
          "Personalized Learning" at Northern Arizona University 
It is understandable that institutions are looking for a unique way to describe their offerings but you need to be careful with this approach. The branding is fine, particularly if you plan to invest in it over the longer term, but if it is just a label then the more general term (keyword) "competency based learning" needs to be given a very high priority assuming that this will emerge in the marketplace as the most commonly keyword used to identify these types of programs.
Tip 3 – Use Pay Per Click ads to attract prospects when you launch
With any new program, it will take time for you to build up a critical mass of quality content and links that will give your pages increased organic search rankings and as a result, increasing SEO traffic and SEO leads. A good way to get immediate traffic and to compete, immediately with other more established programs is to use PPC ads to get prospects to encounter you and investigate your offerings right from day one. At some point over time, as seen below, your SEO traffic will grow to a level at which you can re-evaluate the need for the PPC advertising.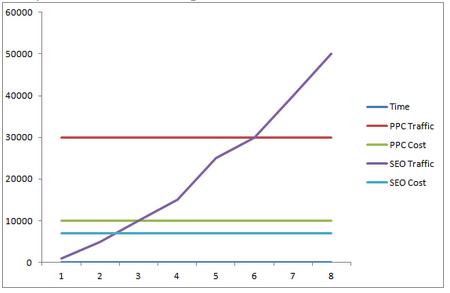 Source 
Following these tips can help you get out in front of your completion in promoting your competency based programs, educating the market place, get found and generate leads and registration.
How are you planning to launch your competency based programs? If you have already begun to market new competency based programs, please share with us what your most successful tactics have been. What turned out to be the most important marketing elements needed to address your school's unique programs?