Reading Time:
10
minutes
A CRM system has the power to completely transform your admissions efforts. Allowing you to streamline your lead management activities, track contact with individual prospects, and even automate some elements of your follow-up process, CRM software can make your team more efficient, productive, and effective.
However, while all of these things offer tremendous value to schools, the potential significance of the reporting tools offered by many CRM systems is often underestimated. Considering the immense amount of data it collects, CRM reporting can offer a wealth of actionable insights into your lead generation and conversion processes that can be just as instructive as any information gathered by your other analytics tools.
Here's how schools can set up and use their CRM reporting to make the most of it.
What Can You Measure Using CRM Reporting for Schools?
One thing that can make it difficult for people to get to grips with CRM reporting is that the capabilities offered are not uniform across all platforms. While most CRM's offer broadly similar reporting, some platforms might have different names for reports that measure similar metrics, or not have as broad a range of functionality as other options on the market, which can make the data they are capable of gathering more limited.
For instance, CRM platforms that include in-built marketing automation tools will usually offer a far greater range of reporting then ones that don't. In addition, the reporting of CRM systems like Hubspot or Microsoft Dynamics, which are designed to serve a variety of different types of organizations, may need to be adapted to the specific needs of your institution. Conversely, there are also platforms on the market designed specifically to provide CRM for education, which may include reports tailored especially for the admissions process.
Typically, a CRM platform will include a certain amount of 'out of the box' reports to help you get started. For example, the standard package of HEM's customized Mautic CRM for schools currently includes the following pre-configured reports:
Speed to Lead– This report provides a measure of how soon your staff members are following up with new leads once they enter the system, including the percentage of leads followed up with and the average time each user takes to initiate follow-up activities.
Meetings Outcome– A summary of the results of any meetings your staff have held with leads.
Leads with no Scheduled Follow Up– A quick view of any leads for whom no follow-up activities (calls, meetings, emails, etc.) have been scheduled, sorted by lead owner. This report can be especially useful during busy admissions periods, when staff may not get to all of your new leads as quickly as normal.
Leads by Stage- All leads segmented by admissions stage. The default admissions stages in HEM's Mautic CRM system are as follows:
New inquiry
Contacted
Meeting scheduled
Meeting held
New Application
Enrolled
Withdrawn before start
Start
Graduate
Withdrawn
Other
Leads by Program- All leads segmented by program of interest (if known), shown by lead owner. This provides a snapshot of how much interest each course is generating.
Leads by Source– All leads attributed to their original source (e.g organic website traffic, paid advertising campaigns, offline sources etc.), allowing you to determine how prospects are finding your school.
Lead Status– This report shows your leads sorted by Mautic's lead status parameter, which groups them under 5 categories– Hot, Warm, Cold, Not Interested, and Not Applicable.
The default starting point for leads is Warm, which will be changed to Hot once a Meeting is scheduled. Prospects are classified as Cold leads if your school has been unable to contact them but they have not opted out of communications. This report can be valuable when looking to gain a broad view of how well your conversion efforts are going, and in forecasting your likely enrollments.
Lead Conversion- Details how many of your leads have been successfully contacted, held a meeting, made an application, or enrolled with your school over a given period of time. The report is displayed by both lead owner and channel. 
Calls outcome- All calls made by your reps by specific outcome. The default fields for call outcomes in Mautic are:
Connected
Wrong Number
No Answer
Left Voicemail
Busy
Left Live Message
N/A
Other
Admissions Activities Summary– A summary of all follow-up actions taken by your admissions staff (calls held, meetings, emails sent, etc.).
If you need something more specific, you can also create your own customized reports. In doing so, your team can ensure that it is tracking the metrics that matter most to your school, and choose from a variety of date ranges, contact properties, and filters to gather the data you want.
Example: This custom report was created by a language school to track leads that came in for its Dublin campus by country.
In some CRMs, you can also control the visualization of a customized report in order to present it in a format that is easily understandable to your team members. Here's an example of the different visualization options available when creating HubSpot reports:
It can take some time and practice to be able to create really effective custom reports, but considering what your school needs to measure will provide you with a good starting point. In the next couple of sections, we'll look at some of the most universally useful CRM reports for schools.
Tracking Your Follow-Up Activities in CRM for Schools
CRM reporting for schools can be vital in tracking the success of your efforts to follow up on student inquiries. The key is to provide your CRM system with as much information as possible about your activities. This means logging every action you and your team members carry out, including calls, emails, SMS, and physical meetings, and updating the outcome and lead status in the system with each step you take.
Example: This Call Outcomes report created in Mautic displays phone call volumes and their outcomes.
This information will help you to ascertain how successful your follow-up efforts are, what types of contact are the most effective in engaging prospects, and how many 'touches' it takes on average for a lead to be pushed down the funnel towards making an application.
CRM will also allow you to easily measure your team's productivity. The Admissions Activity Report in Mautic is a good example of one which will give you a good general overview of how much your staff are getting done over a given period:
Similarly, the Speed to Lead report can help you see how quickly each of your reps are getting to new prospects.
Here, you can see that the first user has made good headway, getting to all but one of their leads within a day. However, the second and third users have been less successful, following up with just 67% and 43% of their assigned leads, respectively. This may indicate that they are being kept from their follow-up by other tasks, or that they have too many leads to deal with – the third staff member notably has the highest lead count.
Last but not least, of course, reporting can help you judge how well your team is nurturing prospects towards enrollment. Mautic's Admissions Activity report, for instance, will show you what percentage of each team member's total leads have been successfully contacted, gone on to schedule meetings, made applications, and ultimately enrolled.
A report like this can provide an illuminating snapshot of the overall effectiveness of your school's enrollment funnel. Tracking metrics like this in a CRM will help you pinpoint areas your team needs to improve, allocate your workload more evenly, and identify where you may be lacking in resources. It can also help you to assess which follow-up channels are getting the best response from your prospective student base, so that you can tailor your workflows to maximize your chances of success.
Using CRM Reporting to Establish Your Digital Marketing ROI
Another important element of CRM reporting is marketing analytics. While some CRMs are purely designed to track sales progress, many now include a vast array of marketing automation features such as email automation, form creation, and lead scoring. In addition, a number of CRMs have the functionality to track website engagement and social media interactions, and can even match existing contacts to their social media profiles or IP addresses to gather data about further engagement.
Example: An example of the Recently Returning Contacts report in HubSpot. As you can see, users who have previously provided their details are automatically tagged in repeat interactions.
As with sales reporting, CRM platforms will usually offer a number of marketing reports out-of-the-box, with some options to create customized ones to suit your needs. Again, the reports you are offered will vary depending on the specific marketing automation and tracking capabilities available on the platform you are using. Here are a few of the most crucial areas which your CRM system may be able to provide insights about:
Online form performance- Many CRM systems will provide real-time data on how successful the forms on your websites and landing pages are in capturing leads, including views and submission rates. They may also make it possible to create A/B tests to assess how changing different components of the form will affect performance.
Landing Pages- CRM systems like HubSpot that allow you to create unique landing pages for your school will also provide key metrics about their performance, such as submissions, views and conversion rates:
Email performance- CRM systems with marketing automation functionality can provide similar metrics for the performance of your email campaigns, including open rates, click through rates, and unsubscribes. These reports can be particularly important if you are using your CRM platform as your main email automation tool.
Example: Mautic allows you to quickly view sent and read rates for all of your emails.
Social Interactions- As stated before, certain CRM systems can be configured to link to social media platforms like Facebook, Twitter, and LinkedIn, and will then provide you with analytics data about your user interaction. Here's a snapshot of some reports on HubSpot's social dashboard: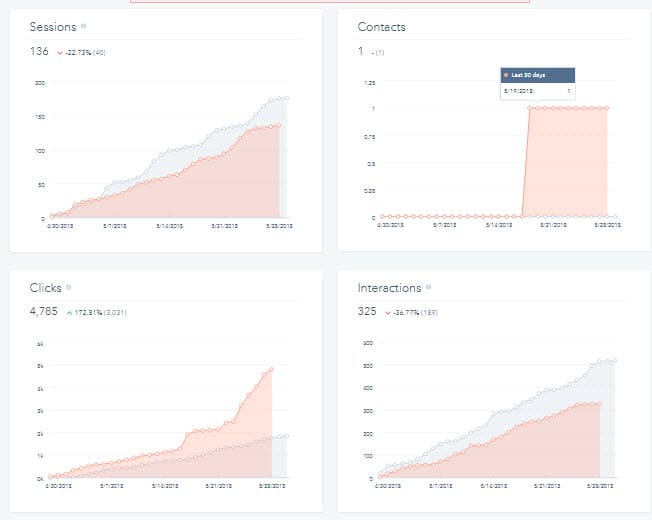 This can be good supplement to the native analytics tools offered by social media sites, and will also allow you to conveniently view your performance on different social networks together in order to compare your efforts on each site.
Marketing Performance- In addition to the performance of specific channels, CRM tools with marketing automation functionality will also provide a number of more general reports which will give you a broad overview of your marketing performance over time, offering data on lead generation growth, sessions and conversion rates.
Other areas which can be included in your marketing reports include blog performance, web analytics, and contact-specific marketing reports.  Again, much of what is available to your school in this area will depend on what system you are using, and you should make an effort to consider the different options available to find the provider most suited to your needs. These reports should also be analyzed in conjunction with other tools such as Google Analytics and Facebook Insights in order to gain as much actionable information as possible.
Creating Dashboards to Easily View Your School's CRM Reports
Whatever reports your team wants to utilize, your CRM dashboards will be where they all come together. Essentially serving as your home screen for the platform, your dashboard should house all the most pertinent information you need in one place, so that it can be easily viewed and referred to in the course of your activities.
CRM dashboards can be customized to fit the requirements of your team members, meaning they can each select the reports that are most valuable to them. Your admissions manager, for instance, may want to view your enrollment funnel, productivity reports for their team members, and other data relating to conversion success. Meanwhile, marketing staff may be more interested in seeing engagement reports for emails, landing pages, and social initiatives.
Example: A sample of reports from a Mautic dashboard, which includes data relating to website visits and email engagement. Dashboard views can be customized for each user's individual preferences.
Smaller institutions where recruitment teams share many different responsibilities may need even more versatile set-ups which incorporate both marketing and sales data, although whether this is possible will depend on the platform you are using.
Whatever your needs, having each of your team members take some time to set up their own dashboards can be a vital step to maximizing the value they get out of using CRM for schools. As a general rule, they should aim to keep their dashboards simple, clean, and as intuitive as possible. It can also be worthwhile to discuss which reports to include, and exactly what the metrics they display mean. That way, you can be sure that the information you team refers to during their day-to-day activities is driving their decision-making in the right direction, and that they are not misled by looking at irrelevant or confusing metrics.
Far more than just another analytics tool, CRM reporting can have a truly revolutionary effect on your student recruitment efforts. Delivering personalized, real-time information from one of your most abundant data sources, its potential uses for schools are endless. And while it can take some to get to grips with, a little customization and trial and error will soon see it become an integral part of your team's toolkit.
*This post was originally published in May 2018, but has been updated and expanded to reflect the latest trends and developments in the industry.