Reading Time:
10
minutes
The enrollment funnel – sometimes called the admissions funnel – has long been an instructive tool for student recruitment professionals. By considering prospects at various different stages of their decision-making process, schools can better tailor their messaging to reflect what each group needs to hear at each particular point. The result is more engaging, enticing marketing content that better captures the imagination of your target audience.
But what kind of content works best at each stage? While the answer to this question can differ depending on your school's specific courses, target market, and unique selling points, there are a few tried and tested strategies that institutions off all kinds can rely on.
Keep reading for some great content ideas that could help increase your chances of getting prospective students' attention at every point of the funnel.
Content Ideas for the Awareness Stage of the Student Recruitment Funnel
Prospective students at the very top of the enrollment funnel are in what is commonly known as the 'awareness stage' of the decision-making process. This is the point when they first begin to research possible education options, but have no particular institution, program or destination in mind, or may not even be fully sure that education is what they are after at all.
During this period, it's useful to think of these prospects as individuals searching for solutions to their particular problems. They could be looking for a career change to help them secure a better future, for example, or considering learning a new language in order to emigrate. Similarly, they could be a high school student wondering what the next step in their life will be, or a parent trying to find ways to help their child excel and find their passion.
Whatever the situation, the role of your content marketing efforts at this point is to position your institution or courses as the answer. This can be done by offering informative blogs, articles, and other offerings which present your school as experts in your field, and serve to build trust and confidence in your brand.
Demonstrating thought leadership is key in these kinds of pieces. For instance, a business school might choose to create articles about some of the latest developments in particular industries, or a university could write features about some cutting edge scientific research it is undertaking.
Example: The University of Sheffield regularly shares details about its research on its news page. Content like this can foster confidence, and demonstrate that your school is at the cutting edge of its field.
Smaller schools can do this in their own way, too. A language school, for example, might offer useful tips or tricks for building your vocabulary, or a private K-12 school could create a blog about ways to help children struggling with their studies. By offering prospects valuable content that really helps them, even in simple ways, you build trust and ensure that you will be top of mind when they are ready to take things a step further.
Example: This blog from ASC English provides a guide to the TOEFL iBT test. An article like this is great for capturing the attention of prospective students seeking information about the TOEFL exam, who may then be subsequently looking for a specialized preparation course.
Creating Education Marketing Content for Prospects in the Consideration Stage
Once prospective students have done some research, they will begin to firm up their interest in pursuing a program or course. During this stage of their journey, they will be seeking more specific information about what your school can offer.
Your program and landing pages will be crucial to encouraging leads at this point in the student recruitment funnel to take the next step. Make sure that you offer plenty of information about your courses and what they offer, and frame them in as engaging and relevant a way as possible.
Example: The program page for WU Executive Academy's Global Executive MBA program is a good example of one rich in valuable content, with useful links to the course's curriculum, class profile, careers program and other information that students may be interested in knowing.
The page also offers plenty of ways for students to take the next step, with options to get a brochure, arrange a consultation, request additional information or apply.
When a prospective student does make an inquiry for more information, books a tour, or reaches out to your school in any other way, it's best to offer them as much added value as possible. If you are using marketing automation software, setting up autoresponder emails to immediately welcome new leads into your wider community can be a great option, and an opportunity to include helpful links to more information.
In addition, providing PDF brochures, links to specially created blogs, and other complementary content can be an excellent way to make prospects feel like you are going the extra mile, and create a welcoming and positive view of your school right from the first point of contact.
Example: Algonquin College creates a digital Viewbook for each academic year which includes all the information a prospective student could possibly need when researching the school.
Offering extra content is also a great way to entice leads to provide their details so your school can initiate the follow-up process.
Example: Prospects must submit their contact info in order to receive a free information pack from Lancaster Beauty School.
Your prospects will appreciate learning about your programs, accommodation options, and other nitty gritty details – but in order to move into the decision stage, they will likely want to get to know your school on a more personal level as well.
While local prospects can go visit your school in person, international students often don't have that luxury. However, by creating campus videos and virtual tours, you can allow prospective students to experience your school without having to leave their home.
Example: The University of British Columbia enables prospects to visit the school's various campuses online.
In the consideration stage, prospective students want to soak up as much information as possible in order to feel that they've made the right decision when it comes time to submit their application. To cater to the needs of your prospects at this point in the enrollment journey, make sure your school creates content that offers insight into each and every aspect of your school.
Tailoring Your Content to the Decision Stage of the Admissions Funnel
After prospective students have researched their options for a while, and perhaps spoke to someone from your school or even visited, they will begin to seriously consider applying. However, they may also be considering a couple of other, similar options. In this situation, it is crucial to find ways to make your institution and courses stand out.
As a result, content aimed towards prospective students at this stage in the decision-making process should be focused on emphasizing your unique selling points. Think about what it is that you feel distinguishes your school from your main competitors. Perhaps you have superior facilities or instructors. Or you have stronger industry links, and can offer more enticing networking or placement opportunities. Or maybe you offer more in terms of student experience, like a more desirable location, better on-campus activities, or a more welcoming environment.
Example: This blog from ILSC Montreal highlights their location as a unique selling point for students seeking summer language courses.
Whatever it is that makes your school special, now is the time to talk about it. Posting blogs, social media content, news pieces, and other offerings across your digital channels will help you reach and engage students at this crucial point, and convince them that your school is ultimately the right choice.
Offering practical evidence of your success at this point is also crucial. Featuring testimonials from satisfied graduates, success stories from alumni who you have helped find a fulfilling career, and statistics about your graduate placement rates will all help to reinforce the trust you have built with prospects thus far.
Example: The University of Utah has a page on its website dedicated to student success stories. The site features a mix of both video and written content, increasing its potential for engagement.
For schools that attract a lot of applications at particular times of year, shifting your content strategy to produce blogs and other pieces targeted towards prospects at this stage could be great way to push your school over the top, or even attract last-minute applicants who hadn't previously considered your institution.
Example: During the latter part of the summer, many universities in the UK invest a lot of time into creating campaigns for Clearing, the period where students who have failed to secure a study destination through the country's centralized Universities and Colleges Admissions Service (UCAS) application system can apply for available places on courses around the country. Guides to the process like this one from Loughborough University are a great way for institutions to put themselves on the radar of prospective students.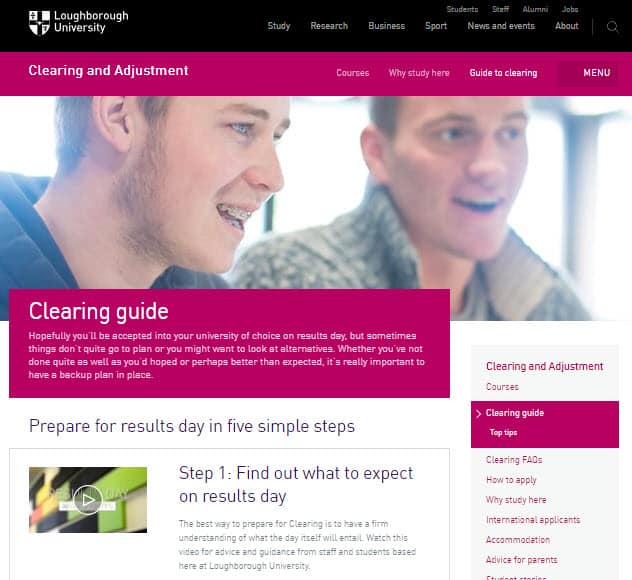 At this stage of the enrollment journey, it's also crucial that prospective students understand the steps required to get them to the end of the admissions funnel.
While most schools have a section of their site devoted to admissions dates and deadlines, you may also want to present that information in a creative format in order to increase the likelihood of your prospects retaining it.
Example: This infographic from the University of Texas at El Paso visually lays out all the steps required to apply to one of its online programs.
When creating content for the consideration stage, make sure to address any last-minute concerns your prospects may have, highlight your school's major selling points, and prepare your prospects for the decision stage.
The Final Stage in the Admissions Funnel: Enrollment
When a student is accepted to one of your programs, that doesn't mean your work is done. During the weeks and months before they begin their course, you can offer additional content tailored towards new students to build a sense of anticipation and excitement.
Before your programs begin, your school could feature content offering pre-arrival advice for new students, guides to attractions around your city or town, and other offerings that will add value to their first few days and weeks at your institution.
Example: The University of Sussex offers a helpful 'Before You Arrive Checklist' for new students. Content like this is likely to be much appreciated by your new arrivals.
This type of content can be featured on your website or social media channels, or be shared directly with new students through personalized emails and messages. This will serve to reassure them that they made the right choice, lessen the likelihood of any last minute second thoughts, and contribute to a positive and welcoming experience.
Keeping Current Students Engaged Beyond Enrollment
While many schools devote a lot of time to content marketing for student recruitment, some are often guilty of neglecting their existing students. This can be a costly mistake. After all, your current students are your greatest ambassadors, and their positive word-of-mouth can be vital in raising awareness among their peers.
In addition, current students are likely to engage with your school's digital channels on an ongoing basis, forming the foundation of your online community. By keeping them engaged and involved with your school online, you can ensure you maintain healthy levels of visibility and are easily found by new prospects.
Throughout the year, you should use your website, blogs, and social media channels to keep current students informed of the latest happenings at your school, posting about events, occasions and any of the latest goings-on around your campus.
Example: The University of Sydney regularly posts fun, informative content providing students with news about what's happening on campus.
You can also offer content that will enrich and enhance their experience. For instance, offering tips for studying, relieving stress and maintaining a school-life balance around exam time can be a great way to make your students feel like they are being fully supported.
Example: Concordia University provides students with tips to alleviate stress during mid-term season as part of their X EXPLAINED video series.
Offering targeted content for those who are close to graduation is also a great idea. For instance, you could provide tips for helping them to get started in their chosen career, or detailing options for further study and skill development. Content which allows them to revisit and reflect upon their memories of their time at your school can also be very well-received.
Example: Many schools, like Drexel University in the USA, create 'bucket lists' for students about to graduate, suggesting a range of fun and novel experiences for departing students to partake in before they leave.
Additionally, content which demonstrates thought leadership is also likely to appeal to current students, in much the same way as it does to prospects in the awareness stage. As students progress and become experts in your area of education, they will value information that helps to further enhance their knowledge. In a way, it brings your content strategy full circle, attracting both new and existing students alike.
By catering to students at each of these stages in your content marketing strategy, your school will be providing a little something for everyone in its wider community, while also ensuring that your online content is a rich and diverse tapestry that covers a range of interesting themes and topics. The result will be an online presence that will intrigue and entice prospects right from the first moment they find your school, up until enrollment and beyond.
**This blog was originally published in August 2018, but has been updated and expanded to reflect the latest trends and developments in the industry.